Stromeng
Strömeng 8" leuku with finger guard #KS8F
Regular price
$159.00 USD
Regular price
Sale price
$159.00 USD
Unit price
per
Sale
Sold out
The 8" Strömeng leuku with a finger guard was designed for the Norwegian military. It features a large brass finger guard to keep the hand off the blade if the knife is used for thrusting. The handle is  generously sized. The sheath is different from the others. Because of the guard it uses a keeper strap secured by Velcro to retain the knife. The wide strap is located just above the guard. So even if comes unfastened it tends to retain the knife until deliberately pushed aside. Instead of the usual thong hanger it has belt slots to keep the sheath from swinging about. This facilitates a one handed draw.
Item Details: 
Blackened Carbon Steel Blade
Blade Length: 8"
Blade Width: 1 9/26"
Blade Thickness: .116"
Handle Length: 4 5/8"
Share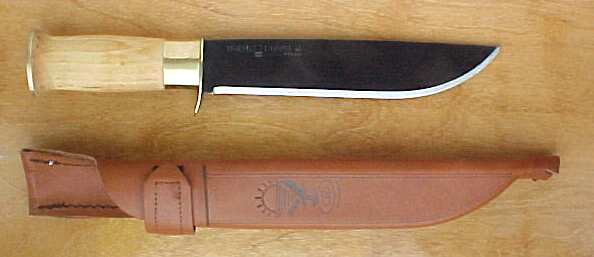 great knife
best feature is lightweight, finger guard, quick blade, carbon steel,, great knife