Helle
Helle Viking
Regular price
$134.00 USD
Regular price
Sale price
$134.00 USD
Unit price
per
Sale
Sold out
The Helle Viking is a revision of a Helle classic. The original Viking was designed by Arne Emile Christensen as a recreation of a Viking Age belt knife. Professor Christensen is with the University Museum of National Antiquities in Oslo. (There is an excellent introduction to the Vikings posted by the Norwegian government and written by Professor Christensen.) The knife was produced as part of a fund-raiser for an around-the-world cruse of a Viking longship.
The knife is notable not only for it's historical interest, but also as an excellent all around utility knife. The black finish of the heat treatment is left on the sides for a rustic look. The tang of the blade is peened over a diamond shaped washer. The handle  is subtly shaped for comfort and control with a variety of grips.  This item comes with a traditional genuine leather sheath that hangs from a thong. 
Item Details: 
Triple Laminated Helle Carbon Steel
Blade Length: 4.25"
Blade Width: .875"
Blade Thickness: .152"
Handle Length: 4.13"
Weight in Sheath: 5 oz. 
Share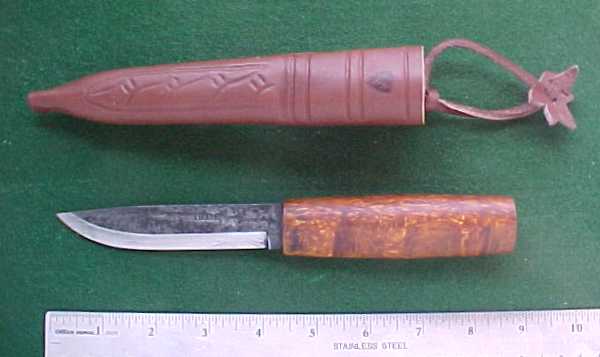 Mine was a magpie acquisition.
I've wanted a laminated blade
A Helle and what is a cosmetic upgrade
on several Ericsson Mora #1s sold by Ragnar @$8 still in my kits.
Surprise! I expected a thicker blade. But this
Is as agile as a #1 with a 'Mors Kochanski definition of survival knife. ' I don't abuse my knives with fire steels, but the square spine is perfect for shaving fat wood. I don't baton my knives, but it could without havoc to a sculpted finger guard wood grip. Mine
Has exceptional wood grain, excellent factory edge and all in true alignment in a superb sheath. Drawback? It was for my
Better half.
Glad you love it! Thank you for the review!