Mora
Mora #510 Allround
Regular price
$12.00 USD
Sale price
$13.50 USD
Unit price
per
Sale
Sold out
The Mora #510 is back! This was one of the top selling Mora knives in North America. Apparently it didn't do as well in Sweden, because it was discontinued in favor of the #511 a few years ago. Now I'm very happy to see it back in production.
The two millimeter thickness is easily strong enough to be useful, and thin enough to slice well. The back of the blade is left rough from the stamping. This will improve the sparking qualities when used with natural flint. For use with a ferro rod you may wish to square a portion of the back to produce sharp corners. The handle is sized for average or slightly smaller hands. It has a molded in pattern with a pebbled surface for excellent control with a variety of grips. The neutral orientation of the grip works equally well when cutting with the edge up or down. The sheath has the usual button slot, but can be opened up take a narrow belt as indicated above. This makes it very viable as a neck knife. I like this one.
Item Details: 
Carbon Steel Blade
Blade Length: 3.75"
Blade Thickness: .078"
Weight: 2.25 oz. 
Weight In Sheath: 3.25 oz. 
Share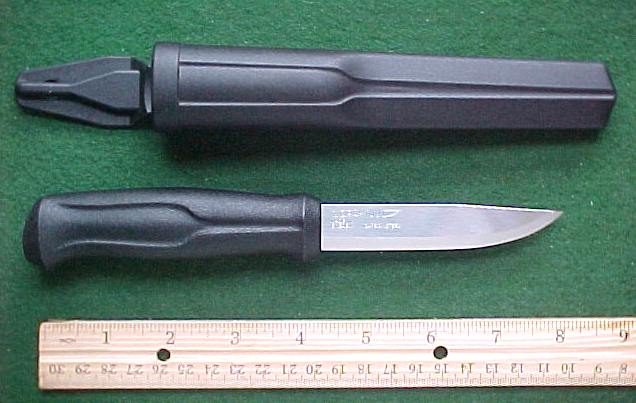 Grount knife
Great all alround do it all grount knife.
510 Mora
I received this promptly after ordering. It's more comfortable than I anticipated. Another knife that'll go on Scout outings. Very satisfied with Ragweed Forge. Always a pleasure ordering from this small store.
Plastic Classic!
The modern plastic classic of a style soon to be forgotten. Great for general to fine bushcraft work and will do everything you need a basic blade to do. Great steel as with any Mora. With my wood handled classics becoming rarer as every year passes, I figured a half a dozen of these would make good field users/ neck knifes for a long time to come.
Thank you so much for taking the time to review! The 510's sure are great but often overlooked with the Colorful 511's. Great review for a great knife!